To request a carpool posting, please email:
LOWER DIVISION CARPOOL BOARD
Join/Form a Carpool: Early Childhood Only
Looking for an early dismissal carpool in Smith/Seven Mile/Northbook/Marnat area. Please contact 443-971-1383
Spot available in Beazer/Rancheligh Early Childhood carpool. Please text: 845-367-2100
Join/Form a Carpool: Early Elementary PM Dismissal
Join/Form a Carpool:
Looking to join a middle school carpool for the 22-23 school year. I live near the agudah of Greenspring.  Please call or text 443-718-8554. Also would be willing to do a carpool exchange.  I can drive your pre-school child up to third grade to school and back if you could drive my child to school and back.
Seeking carpool (AM or PM) to TA for nursery aged boy, Clarks Lane/Cross Country Apts area. Happy to reciprocate and drive some days. Contact tzippys123@gmail.com
Looking to join a carpool for late dismissal for one boy in the Park Heights/Agudah area. Please contact 410-949-6454
4th/5th grade carpool in the Seven Mile, Dumbarton area looking for more people to join.
Please call 443-326-3327 Dena Abramowitz
Late Elementary PM Dismissal
Join/Form a Carpool: Sunday & Mishmar
Rides for Pay:
Looking for morning carpool for pay for my 3 year old son.  Please call or text Sorah: 848-525-2400 (corrected phone number)
Looking for PM ride for pay for one preschool and one elementary boy to Yeshiva Lane, Mon-Thurs. Contact 410-484-2374
Looking to pay for ride home for 4:30 dismissal. 2 boys. Ranchleigh area.
Devora : 9087709880
Looking for Ride for pay home for two boys to Pickwick homes area- One is in Kindergarten- one is in 1st. 617.777.0677

Looking for an AM ride for pay for 2 boys, 1st grade and nursery, Pickwick area, to be picked up at 8:15am, contact leebae0810@gmail.com or 443-800-4767

TA staff member offering ride for pay at 4:30.  A few spots left.  Hand sanitizer/masks/windows open when possible.  Please call or text 410-926-4380
Looking for a paid ride for 2 boys for 4:30 carpool to Beazer.  Please call Amanda Winner (617) 386-3420

Looking for a ride for pay for one preschool boy to Menlo area. Definitely need ride home in PM but also interested in both ways if possible. Contact Mrs. Oshinsky at 215-327-2683

We are looking for a ride for pay home from my incoming first grader for the 2021-2022 school year. We live in the Cheswolde area. Please call or text Laia Abberbock at

301-741-6077

or email 

Laiafried@gmail.com

Looking for a paid ride for September 2021 for a preschool and first grade boy for both ways or just the ride home. Ranchleigh/greenspring area. Also willing to consider a carpool, but can only drive mornings. Any leads would be appreciated. Please call or text Shira Priluck at 917-318-7852
I am looking for a paid driver home from TA fort 1 preschool (Nursery) student to Cheswolde. Please call/text 856-296-3636.
Looking for a paid carpool for two boys for the way home (PM) in the Wellwood/ Indian Village area for one early elementary and one preschool boy.  Please call or text 201-757-8092.
Looking for a paid ride home for my second grade son next year 2021-2022 to Cheswolde (only pm needed).  Any leads please text/call 404-910-2545.

Ride for pay available BOTH ways for lower Elementary. 7mile, Park Heights area.

Looking for a ride home for pay in the Dumbarton area for 4th grader for 2021/22.  Please call or text Zahava Rosenbloom: 410-970-3894.
Looking for a preschool carpool or pay in Seven Mile area. Part-time helpful too. Please text Howie & Shevy Friedman: 917-783-5770.
 MIDDLE SCHOOL CARPOOL BOARD
Looking to join/form a TA 7th grade carpool in Summit Park / Greenspring / Cheswolde area. Please text/call 410-656-6060
Looking to join a 6 grade carpool in the Pickwick area for next year. Please contact 443-452-9772
Looking for a carpool for my incoming 6th grader for next year. We live near Nerak/Bonnie/Seven Mile area. Please call Zahava List 314-346-7414 or email zavlist@gmail.com.
HIGH SCHOOL CARPOOL BOARD
CAMP CARPOOL BOARD
Join/Form a Carpool
Rides for Pay Available
I'm looking to drive campers this summer. I charge $125 per session and I will drive children who live in the Greenspring, Beazer, or 7 Mile area. Please call or text Aryeh Leib Katz: 443-929-2243.

I can drive your boys to camp in exchange for you driving my 2 boys home. First half only.  Pessy Michael: 443-722-5502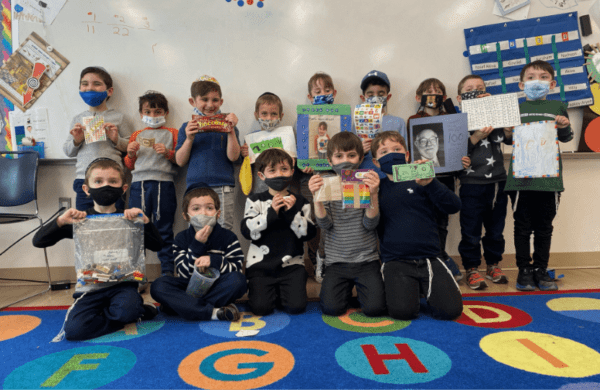 Academics
This week we celebrated the 100th day of school! What a milestone for our Kindergarten boys! They have
Read More »